Alrighty. Slowly but surely we're pulling this short bus of a webcomic out of the hangar. Please be patient. I guess if you're reading this, and you've been with us "from the beginning", you've been patient enough. Our plans for the site are mostly aesthetic in nature. Hopefully we can get some sort of blog-style newspost thing working so you fine folks can keep abreast of our progress. And the first story is now peeking it's head out of the sand. Will there be filthy swears? Only time will tell.
The Structure Reimagined: Is the title of the new comic, and there are/were 2 different lay outs of the comic.
The one shown below is the finial print: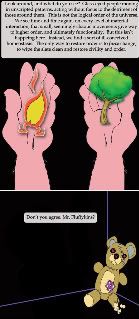 The first one had a 3.4 view of Dez with a evil smile as he turns to the stuffed bear. But after talking about it we felt it was better to have it a 1st person view. So we just cut him out.
There is also a "random" comic coming out soon and we started working on Comic no.5, no title yet.